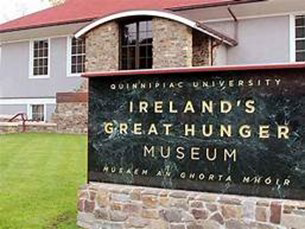 A visit to Ireland's Great Hunger Museum on 9/13
Quinnipiac University investigates the Famine and its impact
through art. The artwork in the museum, by some of the most
eminent Irish and Irish-American artists of the past 170 years.
The Irish Famine of 1845 to 1852 was the greatest social
calamity, in terms of morality and suffering, that Ireland has
ever experienced." Michael D. Higgins, President of Ireland.