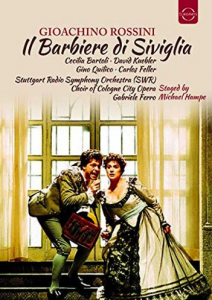 Opera Showing
in the Rock Room
Sunday,
March 28
1 p.m.
Limited seating
Sign up at Front Desk
The Barber of Seville
by Gioachino Rossini
Bribery, deception and disguise. Figaro needs all his wiles to help the Count out-wit Dr Bartolo and ensure true love wins the day. This Stuttgart Radio Orchestra production of The Barber of Seville is a feast of frivolous fun. Enjoy Figaro's mischievous escapades as he assists Count Almaviva in taking the beautiful Rosina away from her lecherous guardian, Dr Bartolo.
Rossini's comic masterpiece fizzes with memorable melodies in an entertaining production that stars renowned mezzo-soprano Cecilia Bartoli in the title role of Rosina and Gino Quilico as Figaro.